Blepharoplasty
It is usually done under Intravenous sedation or general anesthesia. It is usually performed as an outpatient at a hospital surgical facility.
The excess skin from the upper eyelid as well as the excess fat that causes the puffiness and fullness and lead to a "tired" look is helped with this procedure. You are left with usually a good scar in the upper eyelid crease which is not seen with your eyes open. In the lower eyelid, the cut is made as close to the lid margin which allows one to remove or reposition the bulging fat and then remove some excess skin if present. Or, the excess fat causing the puffiness can be removed from the inside portion of the lid without an external scar. The procedure takes about one hour and the only bandages are steri-strips over the incisions.
You can resume light activity after a few days and any activity after two weeks. You are bruised for about 10 to 14 days.
Complications may include bleeding which is one of the rarest complications and can lead to blindness. More prolonged bruising or even bruising within the white part of the eye may occur. It usually does not change the shape of the eyes. Dry eye with excess tearing can occur which is probably due to the eyes staying partially open during the night.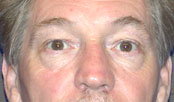 BLEPHAROPLASTY BEFORE
(courtesy Dr. Bitar)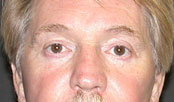 BLEPHAROPLASTY AFTER
(courtesy Dr. Bitar)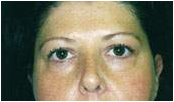 BLEPHAROPLASTY BEFORE
(courtesy of Dr. Domanskis)

BLEPHAROPLASTY AFTER
(courtesy of Dr. Domanskis)