Back Lipectomy or Torsoplasty or Upper Body Lift
A back lipectomy involves removal of excess skin of the upper or lower back or flank areas, and is usually of both sides. This procedure can be done as an outpatient under a general anesthetic, and can be part of a breast skin reduction extended to the back, or an abdominolplasty(Tummy tuck) extended to or across the flanks(Body lift).
The excess skin is marked and then removed at surgery with liposuction used as necessary to tailor the area further. Drains may be placed as well as an elastic type support is used after the surgery. Limited activity is possible within a few days and full activity as early as two weeks.
Bruising, prolonged swelling,seroma formation, infection and separation of the wound is possible. Numbness invariably occurs as well as some asymmetry. The main negative are the scars which are extensive and depend on how much tissue is removed. In the majority of patients, the scars heal with acceptable scars-flat, not too wide and white, but in about 20% of patients, they may be red, spread and ropey, and raised off the surface of the skin.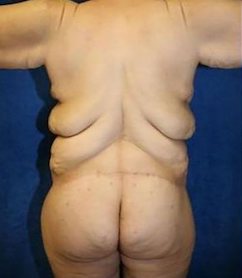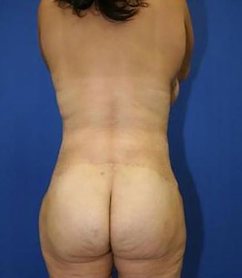 Before: Torsoplasty After: Torsoplasty
(Courtesy of J. Timothy Katzen, MD)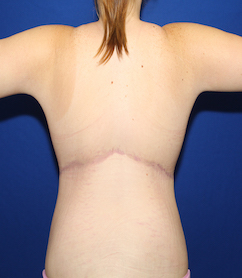 Before: Torsoplasty After: Torsoplasty
(Courtesy of J. Timothy Katzen, MD)