Body Lift or Lower Body Lift
A BODY LIFT is a combination of an abdominoplasty (Tummy Tuck), lateral leg lift, hip lift, and BUTTOCK LIFT procedure, where the cut is across the abdomen, extends around the sides, and then across the buttock.
A body lift procedure is usually done as an outpatient procedure and an overnight stay is normally required. A body lift is performed under general anesthesia. After the body lift surgery, which may take several hours, the patient is placed into an abdominal girdle/binder for about two weeks. Initially, they are in a semi-sitting position and able to fully straighten in about ten days. Limited activity is possible within the first week, and unlimited usually after four to six weeks.
Some of the complications of body lifts are bad scars, fluid or seroma collections, infection, wound separation, pulmonary embolus and asymmetry.
Body Lifts have increased 5000% over the past 15 years. This has paralleled the rise in bariatric procedures that have been performed. Obesity was labeled as a disease by Medicare in 2002, prompting bariatric surgery to be a covered expense by most insurance carriers as means of controlling and eliminating diabetes, high blood pressure and heart disease. The American Medical Association followed the government's lead in 2013.
Types of Lower Body Lift
Several variations can be performed. A Panniculectomy is removal of the excess tissue straight across with no opening up the space or movement of the umbilicus or repair of the rectus abdominis muscles. This usually is made at the level of the umbilicus. In my estimation, this is not very attractive and the patients gain much more by doing an approximation of the abdominal musculature as well as keeping the scar as low as possible.Other variations include a Fleur de Lys which results in an additional scar between the umbilicus and the pubic area but would further tighten the excess skin in the midline. Torsoplasty can also be performed. This results in a cut under both breasts as well as one extending from the area between the breasts to the lower abdominal incision. This is the most extensive resection possible on the abdomen.
When should a Body Lift be performed?
After their bariatric surgery, that the patient's weight loss be stable for a period of about six months. There can be fluctuations of plus/minus 10 pounds but not much over this. The reason is that if the surgery is performed, and the patient loses a significant amount of weight after this, then the results of the lower body lift may not be as good for the excess skin may reoccur. However, we individualize, so in some we may recommend it be done sooner for hygiene issues or if there is minimal fat present in the abdomen or back.
We try and get a lower body lift covered by the patient's insurance. Each private insurance carrier is different. We do take photos or have the patient send them if out of our area and send a letter explaining the medical issues involved like rashes, hygiene, difficult walking, incontinence among others. Unfortunately, the percentage of patients covered for post-bariatric plastic surgery is still less than 50%. Also, the patient should be ready to wait months for approval and if denied, the appeal process.
Where is a Body Lift surgery performed?
A body lift can either be done as an outpatient or inpatient depending on several factors including the patient's overall health, age, BMI, personal preference. It is almost always done under a general anesthetic. The hospital stay can be as short as one day.
What preparations are there for a Body Lift?
Fortunately, most patients that have lost a massive amount of weight are in good health and have been taking their vitamins, supplements, even exercising and are very self-motivated and need minimal preparations. We restrict use of herbals, any aspirin containing medicines for a variable time before and after surgery to not interfere with surgery. They may also start taking iron as well as a stool softener. Please note that you should be perfectly honest if you are taking any medicine, cannabis and smoking all of which may interfere with recovery and healing.
Is there much pain with the surgery?
Unfortunately, of all the procedures that we do, the abdominoplasty does cause the most pain. This is because of the tightening of the muscles but that normally become less within several days.
What complications can occur?
We do thoroughly discuss the complications and limitations of the procedures in quite a lot of detail. We do stress the limitations of these procedures and that their results will never be perfect! The complications that may occur are those that occur with any surgery. However, due to these extensive procedures and the patient's less than ideal health and damaged tissues due to extreme weight gain and loss, the complication rate is greater. This may be bad scars, that is, they can be red, raised, and spread. Infections which can either be localized or involve larger areas and necessitate further antibiotic use and can be persistent. Excess bleeding may result in anemia which may cause weakness, headaches, dizziness, and shortness of breath. Every patient experiences numbness as well as swelling for a prolonged period. Seromas or fluid accumulation do occur in probably about 10-20% of the patients even with a drain. There may also be unevenness of the scars, asymmetry, or differences from one side to the other, irregularities, and opening of different parts of the incisions.
Patients who have lost massive amounts of weight will invariably have some recurrence of the excess skin tissue even as early as several months after their surgery because their collagen and elasticity of their skin and tissues have been permanently damaged with the weight gain and subsequent weight loss! We can do revisions on these areas with removal of more skin and tissue but suggest that the patient wait until at least one year after their lower body lift.
The final and most dreaded complication is a pulmonary embolus, that is, formation of a blood clot in the legs which then travels to the lungs and causes chest pain, shortness of breath and rarely death. In patients who have a history of this or other factors that may increase its incidence, We discuss the use of a blood thinner administered after the procedure and possibly for several days. Unfortunately, this does sometimes cause other problems like excess bleeding.
Can a lower body lift be combined with other procedures?
Yes, the body lift can be combined with other procedures. We usually set a time limit of approximately 5-6 hours and if we can do other procedures in that time frame these can be combined. Our main concern is the safety of the patient and to this end we sometimes even recommend the patient donate a unit of their own blood (autologous blood) which give them back after surgery. Equally important to us is the result that the patient achieves.
The lower body lift is a very satisfying procedure to the patient. It goes a long way to complete the patient's journey which they started with the bariatric surgery. This procedure, or just the abdominoplasty, is probably the most common procedure that we do on a post bariatric plastic surgery patient. It is exciting to see the patient not have the tremendous overhanging tissue. If you are going to travel for an experienced plastic surgeon and member of ASBPS to perform your procedures, check to see if they are available via Skype/FACETIME for consultations.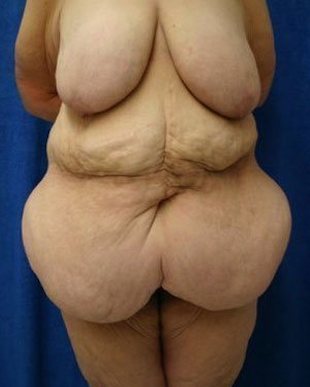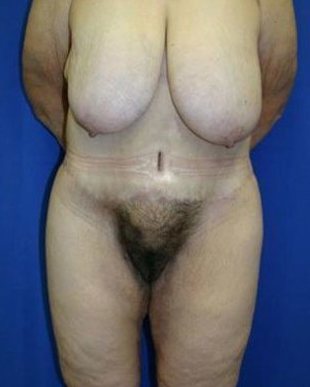 Body Lift Before Front View Body Lift After Front View
(Courtesy J. Timothy Katzen, MD)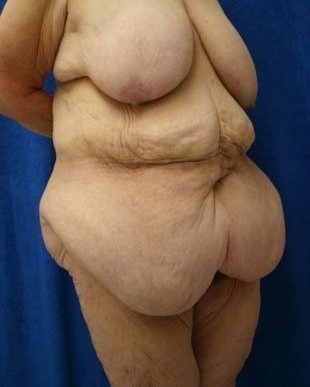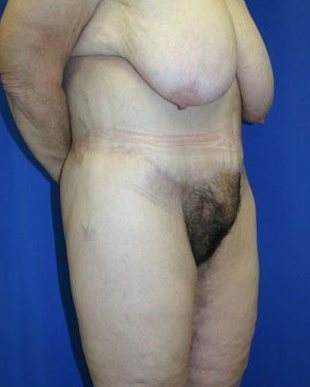 Body Lift Before QR View Body Lift After QR View
(Courtesy J. Timothy Katzen, MD)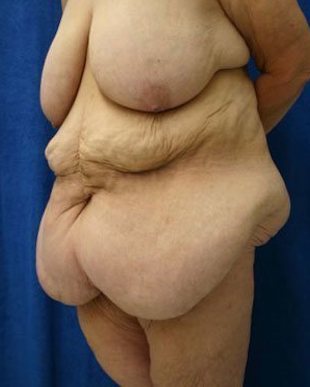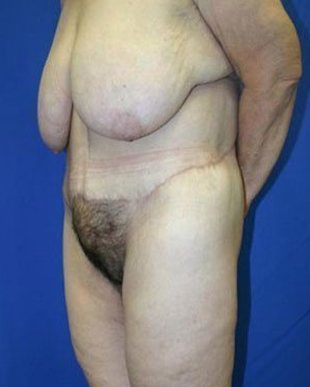 Body Lift Before QL View Body Lift After QL View
(Courtesy J. Timothy Katzen, MD)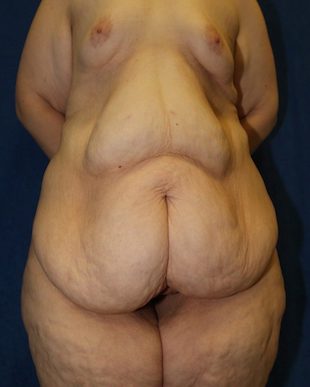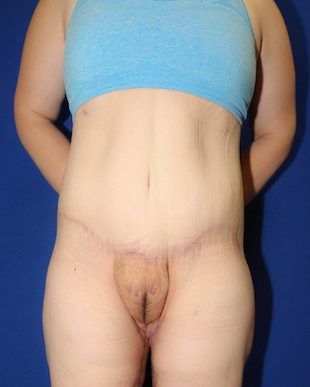 Body Lift Before Front View Body Lift After Front View
(Courtesy J. Timothy Katzen, MD)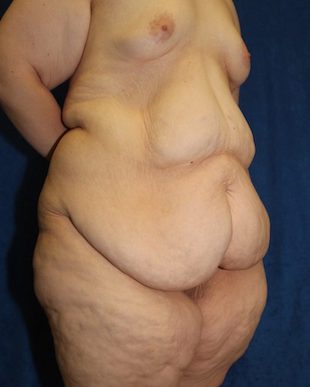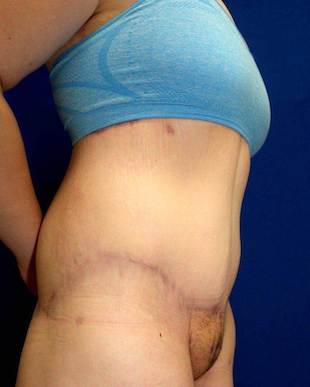 Body Lift Before QR View Body Lift After QR View
(Courtesy J. Timothy Katzen, MD)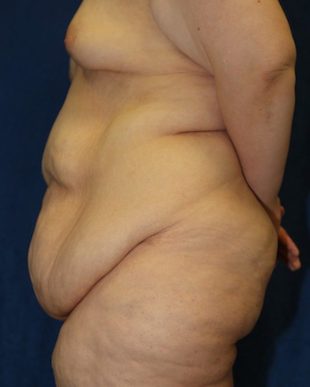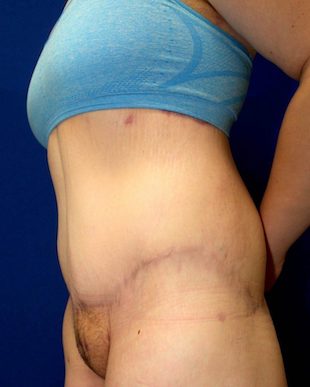 Body Lift Before QL View Body Lift After QL View
(Courtesy J. Timothy Katzen, MD)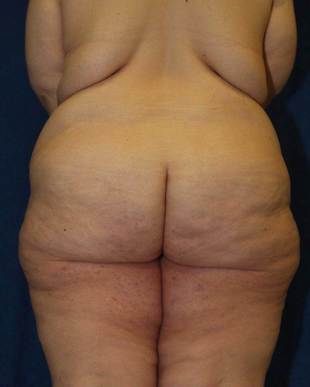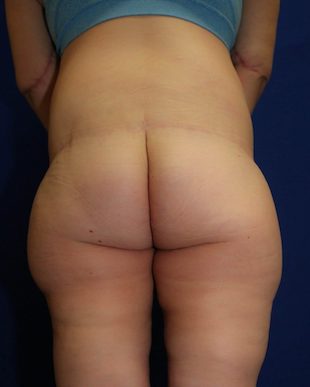 Body Lift Before Back View Body Lift After Back View
(Courtesy J. Timothy Katzen, MD)